Petrified Forest National Park, and many other park areas around the country, relies heavily on the good services provided by volunteers. In our fiscal year 2014, volunteers contributed over 15,000 hours of work to Petrified Forest, the equivalent of more than 7 full time employees and, at Arizona rates, worth over $300,000. That work consisted of greeting visitors at the visitor centers, walking with them on trails and answering questions, watering landscape plants, conducting scientific field work in paleontology, archeology, and biology, doing trail construction projects, and removing internal ranch fences no longer needed after the park's purchase of the Hatch (Paulsell) and McCauley Ranches in 2011 and 2013, respectively. Last Labor Day weekend, over 50 volunteers provided both leadership and legwork to the mini bio-blitz conducted on the newly acquired lands and recorded nearly 250 species of plants and animals in a 24 hour period. The accomplishments of volunteers are crucial additions to what the staff does and in some cases, the work done by volunteers would not be done at all without them.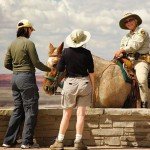 Our volunteers come from all over the country. Often, they bring their own housing with them and stay in our trailer pads for a month or a few months before they either head back home or to their next volunteer or travel destination. We recruit volunteers through the website www.volunteer.gov.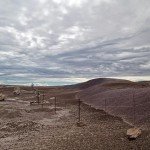 This weekend, 27 volunteers have signed up to help us remove more fence from the Paulsell Ranch. We are prioritizing the mesh fence as opposed to the barbed wire fence because the mesh is more difficult if not impossible for pronghorn and other wildlife to cross. Since the fence is no longer needed to manage livestock, it is an impediment to wildlife movement and important for us to remove. This will be the third volunteer day focused on fence removal – to date, approximately 2 miles of mesh fence and 2.8 miles of barbed wire fence have been removed by volunteers. This weekend's crew will be larger than other days and we hope to remove another 6 miles of mesh fence. Considering the added workload of maintaining roads and exterior fencing we need to keep when we acquired these ranches, removal of internal fencing would not happen at all if not for these volunteer efforts.
We are grateful to all the volunteers who give their time, expertise, and effort to make Petrified Forest National Park a better place in so many different ways.