In the last few weeks there have been significant improvements to the on-line presence of the Petrified Forest community.  Thanks to volunteer Denise Traver, the Friends of Petrified Forest and the Petrified Forest Field Institute have new homes on the web.
The Friends of Petrified Forest is a collection of the park's closest supporters who donate their time and money to help the park achieve its mission.
In recent years, the Friends have played an instrumental role in supporting a vibrant summer intern program for archeology and paleontology students to gain some field experience as well as donating their time to park projects on each of the two volunteer days, spring and fall, organized by the park.  The Friends of Petrified Forest is just getting started and could use your support.  Thank you.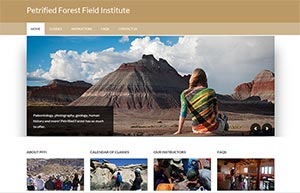 The Petrified Forest Field Institute is a new undertaking for the Petrified Forest Museum Association.  This new service offers expert guides in various fields leading half-day or full-day classes that explore the resources of Petrified Forest.
This year's introductory slate of classes encompasses paleontology, rock art, landscape photography, natural history, and a general park overview.  The instructors are some of the best-known names in leading field classes in Northern Arizona – at least a couple of them teach similar classes around the world.
The park and PFMA hope that there will be enough interest in these classes to expand their number next year, to include multi-day classes with camping in the park.  Eventually, maybe as soon as next year, when the park's expansion lands and the State Trust lands that abut them are available for guided access, a whole new park will emerge as a classroom for Field Institute classes.