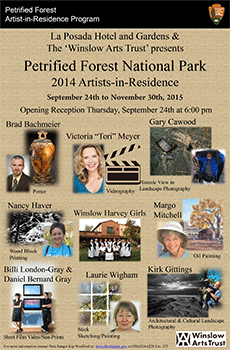 The La Posada Hotel and Gardens and Winslow Arts Trust are co-hosting an exhibit that will display art work from Petrified Forest National Park's Artists-in-Residence program.
The art show will open with a reception this Thursday, September 24th at 6:00 PM with refreshments and some of the artists in attendance. The exhibit will be on display in La Posada's ballroom through November 30, 2015.
The Winslow Harvey Girls will also be on hand for answering questions on the history of La Posada, what it was like to be a Harvey Girl and  general information.
The National Park Service's Artists-in-Residence program was created to welcome artists whom have impacted the formation, expansion, and direction of our national parks. Artists have given glimpses of the American landscape to people that may never visit those lands, creating connections through photography and painting.
Founded in 2006 as part of the park's Centennial Celebration, Petrified Forest National Park's Artist-in-Residence Program allows artists to share their inspirations, ideas, and artwork with the public, continuing the tradition of arts in the parks. Upon completion of the residency, participating artists are asked to donate to the park one original piece of artwork from, and representative of, their residency in Petrified Forest National Park.
The donated artwork may become property of the National Park Service, the park's Friends Group, or the Petrified Forest Museum Association. Artwork may be accessioned into the park's permanent museum collection, used in exhibits, used for educational purposes, and/or auctioned by partner entities. The artist retains a royalty-free, nonexclusive use license under the copyright of the art.