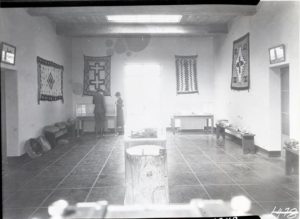 Over the winter, the dropped ceiling in the 1930's Rainbow Forest Museum was removed and the concrete ceiling and skylights that originally illuminated the main room were restored.
Shortly thereafter, the 30' long skeleton of "Smiley", a Late Triassic era crocodile ancestor Smilosuchus gregorii, was hung from the ceiling.  The carpet was also taken up and the original stamped concrete floor was restored.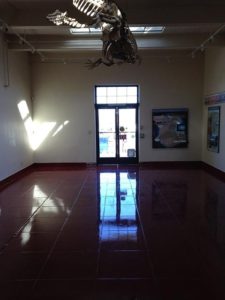 Work will continue this summer in the building.  The bookstore will occupy what is now the theater space and a new information desk will be installed.  New carpet will be installed throughout.
Next winter, our plans are to install new exhibits in the restored front room and restore the room that is now the bookstore's stock room to a place to show the park orientation film.