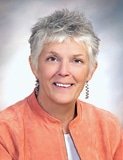 Dr. Jeanne Swarthout was appointed the seventh President of Northland Pioneer College in May 2007, after serving as the college's Dean of Liberal Arts and Vice President of Instruction/Learning since 2001.
She had previously served as:
Campus Instructional Officer for New Mexico State University's Grants Campus
Assistant Professor, Ottawa University
Assistant Professor, Northern Arizona University—Statewide
Director of Academic Affairs, Special Projects, Distance Education for the University of Phoenix
Assistant Director, Cultural Resource Management, at New Mexico State University and Arizona State University
Raised in Phoenix, President Swarthout pursued a career in her love – archaeology, working with the Museum of Northern Arizona, ASU and NMSU on multiple field studies in Arizona and the Southwest.
She also had the opportunity to share her passion for lifelong learning, providing instruction in cultural anthropology and women's studies with the purpose of challenging stereotypical concepts and thinking utilizing technological innovation for course and program delivery.
Swarthout currently serves on the:
Friends of the Petrified Forest, Board Chair
Show Low Chamber of Commerce Board
Northeast Arizona Chapter Leadership Team, United Way of Northern Arizona
Getting AHEAD, Institutional Architecture Committee
Steering Committee for Partnerships for Assessment of Readiness for College and Career (PARCC)
Is a Community College Speaker with the Flinn Foundation's Arizona Center for Civic Leadership
Executive Board for Arizona Women in Higher Education
She is also a peer reviewer for the North Central Association of Colleges and Schools Commission on Institutions of Higher Education and has accepted a four-year appointment to the HLC Institutional Action Council, beginning September 2014.
She has previously served on the Arizona Commerce Authority Board; the Northeast Arizona Training Center Board; the Show Low Future Focus Committee; the Shared Unique Numbering (SUN) State-wide Implementation Team; as Chair of the Arizona Community College Presidents' Council (ACCPC); as Community College Co-Chair, Academic Program Articulation Steering Committee (APASC); and on the Arizona Senate Task Force on Provisional Community College Statutes.
Dr. Jeanne Swarthout retired as President of Northland Pioneer College on June 30, 2018.
Northland Pioneer College is a tax-supported, comprehensive community college serving about 8,000 students annually in both Navajo and Apache counties; an area of 21,158 square miles, roughly the size of the state of West Virginia. The Navajo, Hopi and White Mountain Apache reservations occupy more than 60 percent of the total land in the district service area, and also account for 60 percent of the population.
Campuses are located in four of the largest Navajo County communities: Holbrook, Show Low, Snowflake/Taylor, and Winslow. Five centers are located in Hopi, Kayenta, Springerville/Eagar, St. Johns, and Whiteriver.