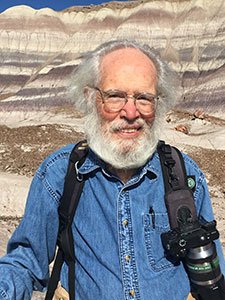 Gary Grube is a retired high school teacher and counselor, who following retirement has volunteered at the park for five seasons.
Originally from Kansas, he has also been a cabinet maker and an office manager for his wife, Connie, who is a Certified Public Accountant. They live in the White Mountains, 70 miles south of the park.
As park volunteers, Gary and Connie developed the routes for the Guided Backcountry Hikes program and were the original leaders for those hikes. Gary and Connie hike hundreds of miles each year within the park.